You may assume that public restrooms are pretty gross, but exactly how dirty are they? At Microban®, it's our job to keep products cleaner for longer, so we study microbes all day long. We recently conducted a swab study on public restroom toilets, and the results may surprise you.

Running the Test
Our team of microbiologists  set out to swab a total of 20 commercial toilets, 4 sites for each toilet. A total of 80 swabs were evaluated as follows. For each toilet a 1 inch X 1 inch square was swabbed using a 3M swab sampler in 10ml of Letheen. 4 locations per toilet were evaluated for bio-burden:
Rim (under the seat)
Inner bowl
Outer bowl
Attachment point (base)
A total of 10 locations were evaluated with 2 toilets/ location being swabbed (one male and one female). Locations included; restaurants, shopping centers, grocery stores and gas stations. Each swab was conducted between 11 am and 2 pm. 
The Findings
After 80 swabs on 4 different sites of the toilet (the rim, the inner bowl, the outer bowl and then base) in 10 different public locations, we found that the average CFU (colony forming unit) was 108 per square inch.
We found a toilet rim that contained 2,256 CFU's per square inch. To give you an idea of exactly how dirty that is, other outside swab studies1  have shown that a garbage bin has only 411 bacteria/square inch.
Evaluation of different sites on the toilet revealed little difference on commercial toilets between sites, Table 1. However, the base demonstrated the most consistent growth with only one toilet resulting in no microorganisms recovered.
Table 1. Commercial toilet swab sites

The most surprising finding was that the male toilets were far dirtier than the female toilets. The average CFU's on a female toilet was only 69, while the male toilet was 147.
Microban is ready to launch with sanitaryware partner. As part of the launch, we evaluated the antimicrobial behavior, measured by a (log) reduction, the growth of viable organisms on a Microban treated sample compared to a control one. Below are the results (Table 2).
Table 2. Log reduction in microbial growth of Microban sanitary ware product compared to a control untreated product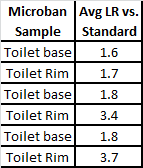 Our test concluded that incorporating Microban antimicrobial technology into sanitaryware products is proven to provide a reduction in the growth of microbes when compared to the untreated toilets or toilets with other antimicrobial technologies. While sanitaryware can be a hotspot for the growth of microbes, incorporating Microban built-in antimicrobial product protection has been proven to help keep sanitaryware surfaces cleaner for longer.
Microban antimicrobial product protection is limited to the product itself and is not designed to protect the users of these products from disease causing microorganisms, or as a substitute for normal cleaning and hygiene practices. Microban International, Ltd. makes neither direct nor implied health claims for the products containing Microban® antimicrobial product protection. Data, photomicrographs and information presented are based on standard laboratory tests and are provided for comparative purposes to substantiate antimicrobial activity for non-public health uses. Antimicrobial action is limited to the product surface.
---
Sources