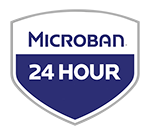 As part of our continued effort to increase social media engagement and share more about our company culture, we've developed a new LinkedIn series called #MicrobanMotivation. Our take on #MondayMotivation, except all of the encouragement and advice will come from our incredible employee-owners! We have such a diverse set of team members, all with different backgrounds, experiences and achievements, and we would love to highlight this on LinkedIn.

Your contributions will be shared weekly on our LinkedIn page, along with your name and job title unless otherwise indicated. Please contact Haley Margies with any questions or suggestions for future social media series!
Follow us on LinkedIn to keep up with all that we're doing as a company and engage with fun content like this!